Match report by John Anthony
Under a clear blue sky, the players in their whites ran out on to the verdant greensward with the wooded Nottinghamshire countryside in the distance.
This bucolic scene was overlooked by the pavilion exuding old world charm; summer had finally arrived.
This is a literary opening to the match report as we're in the heart of D H Lawrence country – the birthplace of the author and poet.
Eastwood Town, in their first outing of the season, won the toss and chose to bowl.
Whether through nerves or rustiness the first four overs offered up all manner of extras allowing the Flintham openers to settle in with the scoreboard ticking along nicely.
The Eastwood attack tightened up their lines to offer the batsmen a stiffer test of their technique.
All the batsmen stepped up to the challenge and kept the bowlers under pressure with regular boundaries flowing despite the sluggish outfield.
Special mention should go to Spencer Taylor for his 81 off 69 balls and Tom Southall for his 55 out of a total of 293 for 6 from the allocation of 48 overs.
Eastwood were soon under pressure with bat in hand as Flintham restricted the home side to just 28 runs in the first ten overs by bowling a disciplined line and length.
Worse was to follow for the home side when Flintham's first change bowlers were brought into the attack.
Eastwood crumbled from 47 for 2 to 91 all out.
Finn Simpson took 4 for 18 off his nine overs – only marginally outshone by man of the match Tom Helliwell's 6.1 overs 4 for 14.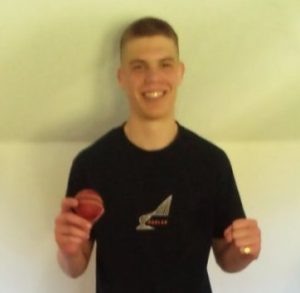 Man of the Match Tom Helliwell
Flintham captain Jonathan Arthur said:
"That was one of the most convincing and satisfying wins of my captaincy.
"A complete team performance"
The spirit of cricket award must go to Eastwood's opening bowler F Hatherley who, having limped out of the attack midway through his tenth over, came in to bat at number eleven despite the hopeless cause.
Meanwhile, playing at home, Flintham 2nd XI chased down Coddington & Winthorpe Development XI's 81 all out to post 83 for 4 and win by six wickets.
Special mention to Matt Newcombe for his unbeaten 48.