Owners of expensive watches have been warned not to wear them in public.
Watch thefts in London have soared this year.
In 2022 more than 620 robberies have been reported – twice as many as last year.
A mobile billboard has been driven around hotspots in the capital where most watches are snatched.
The campaign – launched by auction house Watch Collecting – is concentrating on Chelsea, Knightsbridge, and Mayfair.
The mobile uses the word Watch as an acronym for:
Wear it with care
Avoid unnecessary risk
Travel with a friend
Cover it up
Hand it over if threatened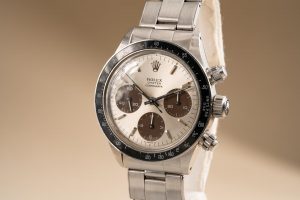 Adrian Hailwood, the head of watches at Watch Collecting, said:
"We felt compelled to act after an increasing number of friends and colleagues were robbed.
What we felt was missing was information.
"It is all very well saying you're raising awareness, but if you're just posting videos of attacks happening, there is a danger of being alarmist in a way we didn't think was particularly helpful.
"What we wanted to do was raise awareness – as a lot of people were blindly walking into this – and lead people through the common-sense steps you can take.
"We would like the police to catch everybody, but it's not going to happen – it is the real world.
"We are not saying don't own a watch, we are just saying be sensible."
One Rolex owner said: "I haven't worn my watch in London for years – it's just a walking invitation to be mugged.
"Thieves know their watches and models and target their victims."
In May 2020 student Al Araimi Mohamed Abdullah, 20, died outside Harrods in Knightsbridge, after thieves stabbed him for his Rolex.
He was walking home with his friend Nasser Kanoo after going out for a meal.