Prime Minister Liz Truss has sacked her Chancellor Kwasi Kwarteng.
She is also on course to abandon a major part of her economic reforms – measures that plunged the UK into a financial crisis.
Mr Kwarteng confirmed his departure on Twitter and posted his resignation letter.
He said: "You have asked me to stand aside as your Chancellor.
"I have accepted."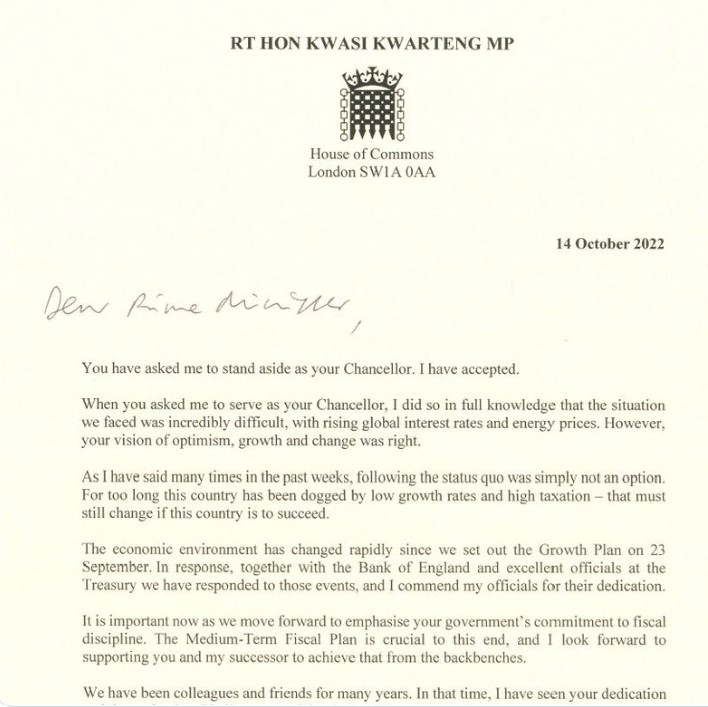 Ms Truss is expected to bow to political and economic pressure to increase corporation tax.
After a "mini-budget" two weeks ago Ms Truss and Mr Kwarteng have been put under relentless pressure to "think again".
They have already had to announce a U-turn and reinstate the 45p income tax rate for the UK's richest people, following a revolt.
And her own position in Number 10 is also vulnerable as it's reported discontented Tory MPs are looking to replace her.
It's said Rishi Sunak and Penny Mordaunt have been touted as new leaders.
Mr Kwarteng will be known as the shortest serving Chancellor in modern British politics.