A gold watch belonging to Adolph Hitler is expected to make more than £3 million at auction.
The watch features the Nazi leader's initials, a Swastika, and the German Imperial eagle.
It also has three dates relevant to his rise to power before the start of WWII.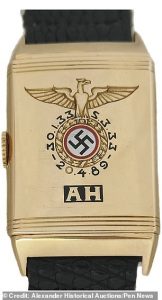 The watch – made by Swiss manufacturer LeCoultre – is said to have been presented to the Third Reich leader in 1933.
Twelve years later it was looted by a French soldier after his unit took Hitler's mountain retreat in Bavaria.
Five days earlier the Nazi leader had committed suicide in a Berlin bunker.
The watch is set to fetch £3.4 million at an auction in Maryland, America.
Bill Panagopulos, president of the auction house, said:
"A Hitler watch has never been offered for sale publicly.
"The watch was given to Hitler in 1933 after he was made chancellor of Germany and gained full authority over every aspect of the administration of the country.
"It was given to him most likely by the Nazi party itself in recognition of his achievement and in thanks for elevating the party to power.'
"It is unique!
"There has never been another Hitler watch offered at auction, and our example has solid provenance.
"There are plenty of Hitler relics out there and we have sold hundreds of pieces of his tableware, clothing, furniture, and so on.
"But a watch is more personal than almost anything else."
French soldier Sergeant Robert Mignot looted the watch after storming the Berghof with his unit, the Regiment de Marche du Tchad.
They arrived before American troops and found that the residence was abandoned.
The soldiers took anything they could carry in their backpacks, with Hitler's personal items being the most prized items.
Mignot later sold it to his cousin, whose grandson has now put the heirloom up for auction.
Mr Panagopulos emphasised the auction wasn't intended to glorify the Nazi dictator.
He said:
"We aren't offering this in homage to the worst man who ever lived.
"It is instead an incredibly rare historic relic, deeply evocative of one of the darkest periods in world history and thus especially important."