An open garden day at Flintham Hall, near Newark, raised more than £2,175 for various charities.
More than 200 people walked around the Hall's 18th Century walled gardens.
Flintham Hall has been the family home of the Thoroton Hildyard family for more than 230 years.
The gardens were open as part of the National Garden Scheme.
Sir Robert Hildyard said:
"It was a wonderful day and luckily the forecast rain held off.
"The gardens looked magnificent.
"The gardeners did a tremendous job making sure everything was in perfect order.
"But the Flintham villagers n important part in making the day a success.
"Everyone's efforts meant we have raised more than £2,175 for several charities both local and nationwide."
Visitors Keith and Margo Darbyshire said:
"The gardens were superb – an inspiration to go home and start digging and planting."
And Lady Marianna Falconer – Sir Robert's sister – said:
"The gardens are a great testament to all the challenging work put in by the gardeners – and there are just two of them.
"I'm delighted we were able to open them up and share them with other people."
There were stalls offering plants, local crafts, homemade cakes, and refreshments.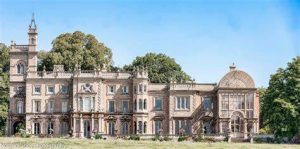 There was a special stall selling baskets woven by the women of the Frafra tribe in Northern Ghana.
The baskets are sold to improve the livelihoods of traditional weavers by offering direct support to the village women.
The Bolga region of Ghana has low soil fertility which prevents the people from living off commercial agriculture alone.
The charities supported include Macmillan Cancer Support, Marie Curie, and The Queen's Nursing Institute.
There will also be a donation to St. Augustine's Church, Flintham.