Teenage racing car sensation Will Orton has won his first race in a national car challenge.
The seventeen – year- old crossed the line a winner after two and a half years competing on the tough Ginetta GT5 Challenge circuit.
Will, from Flintham, Newark, Nottinghamshire, won the honours at the Donington Park Race track.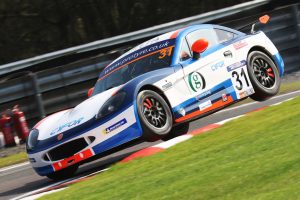 However, his victory smile was short lived.
In the next race college student Will was once again in the lead but slipped into second place.
Then he came off the track and found himself in 15th place.
He was working his way through the pack and reached sixth position before a car behind pushed him into a stationary vehicle.
His car was too severely damaged to continue racing.
Some rapid repairs work by his dad Pete – mending the front suspension and fitting a new bonnet – enabled Will to take part in the third race of the day.
Because Will did not finish race two he found himself at the back of the grid for the final challenge.
He said: "During the last race I put in some of the best laps of my life and fought my way up to fifth.
"I set the fastest lap time as I cut through the cars in front.
"However, once again, fate played a hand.
"While pushing for third spot I ran into the back of another car in the braking zone.
"Further damage to my car forced me to retire.
"I felt really disappointed as we had the pace to win that race – but it just about summed up the kind of day we had."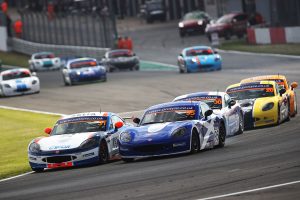 Will was cheered on at the track by his mum and dad Pete and Liz.
Liz said: "We're so proud of him winning his first race.
"Will is fully committed to being a racing driver."
Will – who is yet to take his road driving test – is studying at the Motorsport UK Academy at Loughborough College on the Enhanced Diploma in Sporting Excellence.
The two-year course in sporting excellence and motor vehicle education is designed to support talented drivers and co-drivers through both the sporting and academic pathway.