Police have released a picture of the £72,000 Franck Muller watch stolen from boxer Amir Khan at gunpoint.
The Metropolitan Police are appealing for help to catch the two robbers who struck moments after Khan and his wife left a restaurant in East London.
Detective Constable Ben Grix, North East Command Burglary and Robbery Team, said:
"It is a high value Franck Muller timepiece valued at around £70,000.
"It is a one-off custom-made design and will be easily recognised by anyone it is offered to for sale.
"If you, or anyone you know is offered the watch at a discounted price please contact us immediately."
Fighter Khan, 35, was approached on April 18th at 21.15 by two men in High Road, Leyton.
A pistol was pointed at his head as one man demanded Khan hand over the timepiece.
No shots were fired and no none was injured.
The two robbers ran off and jumped into a silver car parked a few yards away.
DC Grix added:
"We are still keen to hear from anyone who witnessed the robbery, has information, or has footage of the incident.
"If you were driving in the area around High Road, Leyton at the time of the offence and have dash-cam, please do check your footage for anything that might assist our investigation.
"The effects of being a victim of an armed offence go far beyond a loss of property.
"If you have information, please do the right thing and get in touch."
Khan – an Olympic silver medallist – posted his ordeal on Twitter.
He wrote:
"Just had my watch taken off me at gun-point in East London, Leyton.
"I crossed the road with Faryal [his wife], luckily she was few steps behind me.
"Two men ran to me, he asked for my watch whist having a gun pointed in my face.
"The main thing is we're both safe."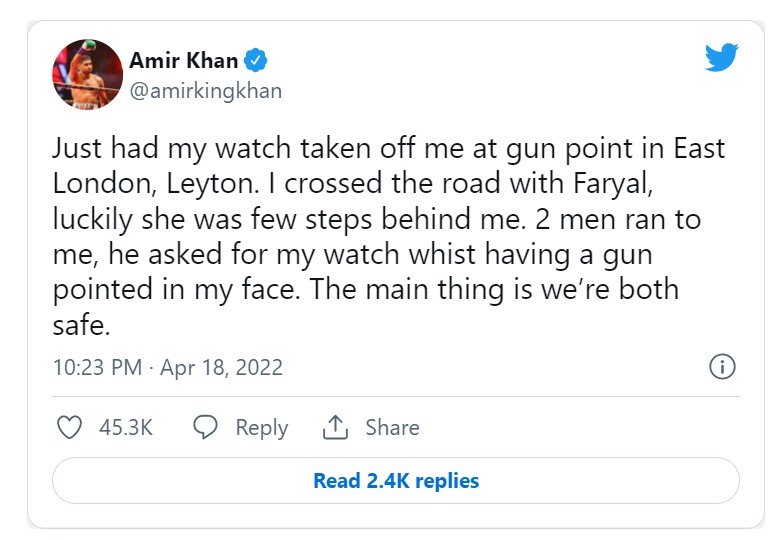 The watch was a Franck Muller Vanguard Chronograph.
It is encrusted with 719 diamonds.
A witness told The Sun newspaper:
"The robbers were not hanging around.
"They got straight into the car and fled.
"Amir had enjoyed a lovely evening with his wife and had been shopping earlier in the day.
"It raises real fears he was a deliberate target.
"It's extremely serious.
"He was left absolutely terrified."
The Metropolitan Police said:
Officers were called at 9.15pm on Monday, 18 April to High Road, Leyton.
"A man aged in his 30s is alleged to have been approached by two males who threatened him with a firearm before stealing his watch and fleeing.
"There were no reports of any shots fired or any injuries.
"Police responded and conducted an area search.
"At this early stage there have been no arrests.
An investigation has begun, and police are following a number of enquiries."