Crumbs! That takes the biscuit.
A lorry packed with biscuits has shed its load – not only causing traffic chaos but inspiring scores of funny responses.
McVities Digestives, ginger nuts and chocolate bourbons littered Ilkeston Road, Sandiacre, Derbyshire.
Hundreds of packages were scattered across the road.
Officers from the Erewash Response Unit were quickly on the scene.
One posted to Twitter – "we're trying to digest the issue.
"A lorry load of McVities finest have decided to abandon ship causing a slight obstruction!"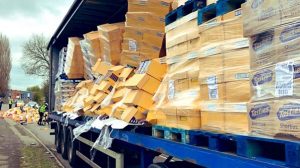 Many people responded with comments like – "we're going ginger nuts".
Some offered to help clear up, posting "put the kettle on, we're on our way".
Another person said: "Crumbs that looks bad!
"I hear traffic is being diverted on to the party ring road."
"McSlippies I love those biscuits especially if they fell off the back of a lorry," added another.
A video of recovery trucks at the scene was shared about two hours later, with Erewash Response writing:
"These experts will have it sorted in no time."