A rare 1937 Talbot-Lago car has sold for a record breaking £10,250,000 at auction.
The Teardrop Coupe is the most expensive French car to go under the hammer.
It is also a record for the marque.
The bodywork was designed by Figoni et Falaschi and less than a score was produced more than 80 years ago.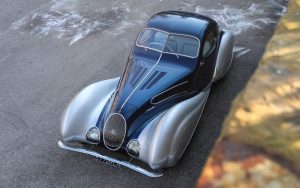 It is one of only two Talbot-Lago T150-C-SS Teardrops with enclosed front fenders, a design dubbed "Modèle New York."
It is the sole Teardrop that still has its original body.
The other Modèle New York was re-bodied to match its original Teardrop appearance.
The car is said by many to be one of the "most beautiful" ever to be made.