A specialist police unit has seized three vehicles after a group of hare coursers were caught at a match.
More than 50 people were watching the blood sport near Spalding, Lincolnshire.
Officers also issued 14 dispersal orders, forcing the coursers to leave the county.
The police are investigating other possible crimes committed at the meeting.
Hare coursing is illegal.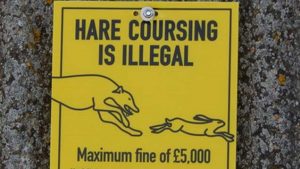 Greyhounds and lurchers are used to chase hares across fields.
When cornered the exhausted hares are torn to pieces by the dogs.
Lincolnshire Rural Crime Sergeant Deborah Nunn said:
"We would like to thank the public for reporting these offences to us.
"I would urge residents to help us protect our rural communities from hare coursing by continuing to report anything they feel is suspicious.
"Our focus is to deter criminals and support our rural crime communities.
"The aim of our new rural crime team is to stop criminals in their tracks by patrolling areas and attending incidents as soon as they are reported."
The coursing in the Lincolnshire fenlands was reported to the police by anxious passers-by.
The county's rural crime unit sent out a drone unit and officers.
Hare coursing in Lincolnshire has dropped by half since the unit was formed.
Earlier this month the Government announced a clampdown on hare coursers.
Offenders now face up to six months in prison.
People who try to stop hare coursers are often met with personal threats and violence.
New legislation will include unlimited fines and – for the first time – a prison sentence.
The police will be reimbursed for kennelling dogs caught hare coursing and disqualify offenders from owning a dog.
Tim Bonner, Countryside Alliance chief executive, said:
"Hare poaching has been 'a blight on rural communities for far too long.
"Despite their best efforts, police forces across the country struggle to tackle hare poachers and we have long campaigned to give them and the courts additional powers."
The measures will apply to England.
Coursing causes damage to the farm as coursers illegally break through fences and security features.
Once the chase starts crops are trampled and damaged, livestock spooked, and fields dug up by 4×4 tracks.
Environment Secretary George Eustice said:
"There are persistent groups who illegally perpetuate hare coursing, creating challenges for the police.
"These new measures will give the police the additional powers to bring prosecutions and confiscate dogs from owners involved in hare coursing."
Home Secretary Priti Patel said:
"Illegal hare coursing has blighted rural communities for too long, resulting in criminal damage, threating violence and intimidation against farmers and landowners.
"Those responsible are often involved in other criminal activities – including drugs and firearms offences.
"I have been a longstanding supporter for essential reforms to our laws to stop hare coursing which is why we will act to prevent more people from suffering as a result of the actions of a law-breaking minority."