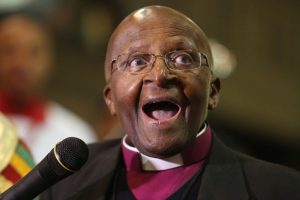 South Africa's Archbishop Desmond Tutu has died at the age of 90.
The religious leader played a pivotal role in his country's fight against apartheid.
South Africa's President Cyril Ramaphosa said:
"The passing of Archbishop Emeritus Desmond Tutu is another chapter of bereavement in our nation's farewell to a generation of outstanding South Africans who have bequeathed us a liberated South Africa."
Mr Tutu was awarded the Nobel Peace Prize in 1984 for his campaign of non-violent opposition to South Africa's white minority rule.
A statement from the Nelson Mandela Foundation said:
"He was larger than life, and for so many in South Africa and around the world his life has been a blessing.
"His contributions to struggles against injustice, locally and globally, are matched only by the depth of his thinking about the making of liberatory futures for human societies.
"He was an extraordinary human being. A thinker. A leader. A shepherd.
"Our thoughts are with his family and friends at this most difficult time."