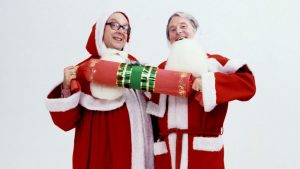 Picture: BBC
A Morecambe and Wise show lost for 50 years will be broadcast by the BBC on Christmas Day.
The BBC said the 45-minute programme will be shown in full with the guideline it is "classic comedy from 1970 for audience context".
Gary Morecambe – the son of Eric – found the tape in his mother's home in Harpenden, Herts.
Gary said he was going through material in his mother's attic looking for old scripts.
He said: "I thought I'd start going through my father's old stuff and sure enough, lo and behold, we came across six cylinders of film."
When he was told it was a missing episode Gary said:
"I couldn't quite believe it, it took a few days to sink in, it wasn't really what I was trying to do.
"It's not going to happen again.
I don't think it's a case of if you keep searching you'll find something else, I think that's it."
The episode had been wiped by the BBC so the tape could be re-used.
Gary said the missing tape has a sketch about a radio call-in challenge that represents "a golden era of television".
He added: "But I didn't realise at that point how far the BBC would go to present it.
"That it would then get colourised, which is fantastic, so it's been brought bang up to date.
"And also, what's really good is the quality of the show itself, you can see the embryonic Morecambe and Wise come through."
Eric Morecambe died in 1984 aged 58 and Ernie Wise died in 1999 aged 73.
The comedy duo's Christmas special in 1977 attracted a television audience of more than 28 million.
https://www.bbc.co.uk/programmes/p0bbr9z6