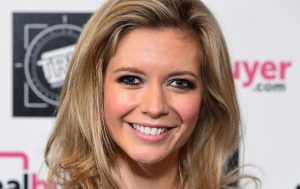 Countdown presenter Rachel Riley has been awarded £10,000 damages by the High Court after suing a former aide to Labour MP Jeremy Corbyn for libel.
The libel happened during an exchange on Twitter.
The Channel 4 presenter complained about the comment from Laura Murray – an aide to Mr Corbyn –  made more than two years ago.
Mr Justice Nicklin said Ms Riley was "entitled" to "vindication".
However, there had been a "clear element of provocation" in the tweet she had posted.
Both women posted tweets after Mr Corbyn – then Labour leader – was hit with an egg during a visit to a mosque.
Oxford educated Ms Riley, 35, posted a screenshot of an earlier tweet by Guardian columnist Owen Jone after former British National Party leader Nick Griffin had been attacked Mr Owen wrote:
"I think sound life advice is, if you don't want eggs thrown at you, don't be a Nazi."
Ms Riley added: "Good advice" – adding emojis of a red rose and an egg.
Later, Ms Murray tweeted: "Today Jeremy Corbyn went to his local mosque for Visit My Mosque Day and was attacked by a Brexiteer.
"Rachel Riley tweets that Corbyn deserves to be violently attacked because he is a Nazi.
"This woman is as dangerous as she is stupid. Nobody should engage with her.
"Ever."
In a writing ruling Mr Justice Nicklin said:
"This case is unusual.
"It turns, largely, on two tweets: the good advice tweet and the defendant's tweet.
"I have found that the publication of the defendant's tweet has caused serious harm to the claimant's reputation, and I have rejected the defendant's defences."
He added: "The claimant is therefore entitled to a sum in damages."
Mr Justice Nicklin said Ms Murray's tweet had "essentially" misrepresented what Ms Riley had said in the "good advice tweet".
He rejected Mr Riley's argument that Ms Murray had been "motivated by any improper purpose".
"I am satisfied that the defendant acted honestly/.
"She made a mistake in the defendant's tweet by not including the good advice tweet."
After the decision Ms Riley tweeted:
"I'm extremely pleased to have won my libel case vs Laura Murray, former head of complaints for the Labour Party.
"This has been a very draining process and I'm relieved to finally have vindication."