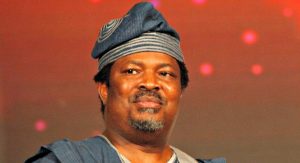 A Nigerian media mogul can appeal a High Court decision that ruled he could not run a UK company for seven years.
Nduka Obaigbena, 62, was given permission to fight the ruling by High Court Judge Timothy Fancourt.
Obaigbena was handed the ban after the High Court said his company Arise Networks Ltd had no reasonable prospect of paying its debts to avoid insolvency.
The businessman's lawyers argued the High Court had "misunderstood the law" during the hearing.
Judge Fancourt said he was unconvinced the original judge – Judge Raquel Agnello – had misinterpreted the evidence against Obaigbena – or criticized the businessman's credibility.
However, there was a chance the seven-year sanctions imposed last April were "too severe".
Mr Hugh Sims, QC, representing Obaigbena, argued his client thought Arise Networks could overcome its huge debts.
Obaigbena launched Arise Networks Ltd in the UK in 2014.
The station – at one time running out of prestigious offices in Piccadilly, London – attracted household names to its presenting team.
It also employed first-rate news producers and journalists.
However, its losses went from £3.8 million in 2013 to £25.7 million in 2016.
It was wound up – leaving workers being owed hundreds of thousands of pounds in unpaid wages.
The broadcaster had failed to generate any sales revenue and was dependent on funds from associated businesses in Nigeria.
In September 2014 the Nigerian Government brought in stringent exchange controls after the collapse in the price of oil – stopping the movement of much needed currency out of the country.
Obaigbena maintained once the restrictions were lifted, funds would be available, and he could pay his creditors.
But Judge Agnello found there was "no evidence" for the businessman's optimism that creditors would be repaid.