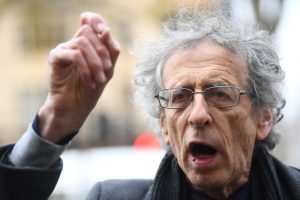 Piers Corbyn has been arrested by the police after appearing to call for MPs' homes to be "burnt down".
His comments were caught on video and posted online
The seventy-three-year-old brother of the former Labour leader Jeremy Corbyn was criticising politicians who voted last week for further Covid-19 restrictions.
He called the MPs "scum who have decided to go ahead with introducing new fascism.
He added: "You've got to get a list of them [MPs].
"And if your MP is one of them, go to their offices and, well, I would recommend burning them down, OK.
"But I can't say that on air. I hope we're not on air."
Speaking at a Westminster anti-vaccination rally Mr Corbyn told supporters:
"We've got to hammer to death those scum.
"We've got to get a bit more physical.
"It means we have to take down these lying vaccinators, and we've got to take down these lying MPs.
The Home Secretary Priti Patel has called for Mr Corbyn to be questioned.
She posted to Twitter:
"The Piers Corbyn video is sickening.
"I back the police to take the strongest possible action against him."
Meanwhile, Piers Morgan sent the video to the Met Police on Twitter, writing:
"This is appalling.
"Piers Corbyn is inciting the murder of MPs.
"He should be arrested and jailed for this."
A Metropolitan Police statement said:
"We are aware of a video on social media in which people were encouraged to burn down MP's offices.
"It is being assessed and enquiries are ongoing."
"We've got to get a bit more physical."

"We've got to hammer to death those scum, those scum who have decided to go ahead with introducing new fascism."

"If your MP is one of them, go to their offices, and, well, I'd recommend burning them down."

– Piers Corbyn. Lock him up. pic.twitter.com/urQt5HG1Yq

— habibi (@habibi_uk) December 18, 2021