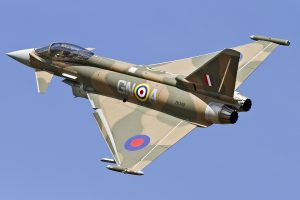 Picture: Ministry of Defence
An RAF Typhoon jet has shot down a "hostile drone" flying over Syria – reports the Ministry of Defence (MoD).
It's the first time a RAF fighter plane has taken out an enemy aircraft since the Falklands War in 1982.
The MoD said the drone "posed a threat" to coalition forces fighting Islamic State in the south of Syria.
Defence Secretary Ben Wallace said the strike was "an impressive demonstration of the RAF's ability to take out hostile targets in the air".
Two  – on a routine patrol flying out of Cyprus – were asked to investigate the small drone.
The pilots found and destroyed it using a short-range air-to-air Asraam missile.
The weapon – which costs £200,000 a time – has a range of up to 15 miles and flies faster than the speed of sound at Mach 3.
The incident took place near the Al Tanf coalition military base, close to the border with Iraq.