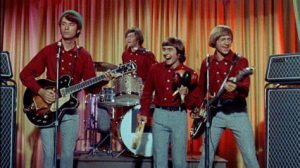 The Monkees: Nesmith (left), Dolenz, Jones, and Tork
Mike Nesmith of The Monkees – the made-for television pop group – has died. He was aged 78.
The singer-songwriter died at his home of natural causes.
Nesmith – whose mother made a fortune from inventing a fore runner of the correcting fluid Tipex – was an original member of the four-man band.
The Monkees were created in America to rival The Beatles and cash in on the 60s British invasion of the States.
The group was dubbed "The Pre-Fab Four" – a play on their ready-made beginnings and The Beatles' nickname.
The Monkees first songs were written by some of America's greatest lyricists – Neil Diamond and Carol King among others..
The group became a worldwide hit and their songs are still played more than 50 years later.
The last surviving member of the group Mickey Dolenz tweeted:
"I'm heartbroken. I've lost a dear friend and partner.
"I'm so grateful that we could spend the last couple of months together doing what we loved best — singing, laughing, and doing shtick.
"I'll miss it all so much. Especially the shtick. Rest in peace, Nez."
Americans Nesmith, Dolenz and Peter Tork were joined by Britain's Davy Jones to be The Monkees.
Their television series about an up-and-coming band looking for success ran for two years from 1966.
The show was mad-cap and featured songs like Daydream Believer, Last Train to Clarksville and I'm a Believer.
The group split in 1970.
Despite being "manufactured" and criticised for being poor musicians, Nesmith was a talented guitar player and fine song writer.
Until recently he had been touring with Dolenz.
Nesmith's manager Andy Sandoval said:
"It is with deep sadness that I mark the passing of Michael Nesmith.
"We shared many travels and projects together over the course of 30 years, which culminated in a Monkees farewell tour that wrapped up only a few weeks ago.
"That tour was a true blessing for so many.
And in the end, I know that Michael was at peace with his legacy which included song writing, producing, acting, direction and so many innovative ideas and concepts.
"I am positive the brilliance he captured will resonate and offer the love and light towards which he always moved."