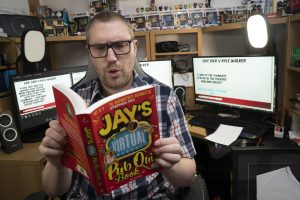 A pub quiz whizz has been awarded an MBE for raising more than £1 million for charity with his endless questions.
Johnny Flynn – known as Jay – has set quizzes for millions of people during the lockdown.
During the height of the pandemic his online teasers were attracting 180,000 players a time.
He was given his MBE by Prince William at a ceremony at Windsor Castle.
Mr Flynn told the PA news agency:
"I still play on Thursday night.
"So, I finish my live quiz and then I go and join my quiz team.
"I talk to 16,000 people, asking questions, and then I go and toddle off to my local pub and sit with 30 or 40 others.
"I've done a couple in person, which have been great.
"That's back to where it all really began in pubs with me hosting quizzes."
Asked if he wins at all, he said:
"Nope. We're on a bit of a dry spell at the moment.
"We're not doing very well; I don't know why."
Mr Flynn said he was "so pleased and honoured" to have meet Prince William.
He said:
"He told me that he has not done a quiz yet but wants to get involved.
"I don't think I'll ever find out (when the Duke will do a quiz) but I think he would be quite good."
Mr Flynn started Jay's Virtual Pub Quiz in March 2020.
Organisations that he's helped include NHS Together, Alzheimer's Research UK and The Connection at St Martin-in-the-Fields, a charity which helps homeless people in London.
It supported Mr Flynn 12 years ago when he was rough sleeping.
He said: "This honour is not something that ever would have entered my mind.
"This is just the most incredible day ever.
"To have this pinned on to me, I can't put this into words.
"I'm just a normal person, I'm the same person I was two, three and four years ago, things like this don't happen to normal people like me."