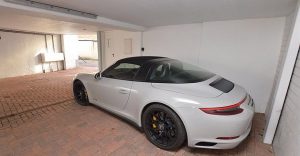 A car parking space in a Devon seaside town is for sale for £100,000.
The single slot is in a mews garage in the village of Shaldon.
A parking spot for two cars recently sold for £120,000.
The newest space for one car is in an open garage at Royal Standard Mews, Penrhyn Pace.
It is just one of five parking spaces just off Fore Street in the heart of the village.
There is security lighting and the 999-year lease started from 2016.
The space measures 4.5m x 2.84m. Height 2.08m.
Julie Carden, the manager of Bradleys' Shaldon office, said:
"We have received a lot of interest.
"A lot of people are talking about it.
'There is generally a lack of parking within Shaldon because the village wasn't built with cars in mind!
"There are many houses in the heart of Shaldon which have no parking or restricted parking, and therefore parking spaces like this are always going to be sought after."