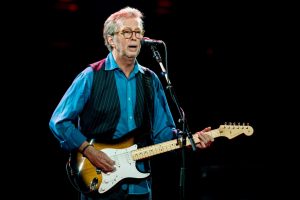 Eric Clapton has lost friends because of his stance as an anti-vaxxer.
The guitarist – who is double-jabbed – is against lockdown.
He has also vowed not to perform at gigs where proof of immunisation is needed.
Clapton, 76, even cut a Covid-19 protest song – "Stand and Deliver" – with fellow sceptic, singer Van Morrison.
Clapton said: "My family and friends think I am a crackpot anyway.
"Over the last year, there's been a lot of disappearing – a lot of dust around, with people moving away quite quickly.
"It has, for me, refined the kind of friendship I have.
"And it's dwindled down to the people that I obviously really need and love.
"Inside my family, that became quite pivotal.
"I've got teenage girls, and an older girl who's in her thirties – and they've all had to kind of give me leeway because I haven't been able to convince any of them."
Clapton told the Daily Star:
"I would try to reach out to fellow musicians and sometimes I just don't hear from them.
"My phone doesn't ring very often.
"I don't get that many texts and emails anymore."