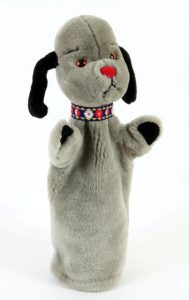 Picture: Ewbank's
Glove puppet Sweep has cleaned up at an auction after being sold for £3,000.
He was expected to make £500.
His erstwhile chum Sooty went for £1,500 at the sale held by Ewbank's Auctineers.
The original puppets were from The Sooty Show and collected by puppeteer Peter Jago.
The show ran for five decades from the 50s and was created by the presenter Harry Corbett.
His sons Matthew then took up the reins.
It is the longest running children's television in the world.
During the programme Sooty and Sweep always ended up fighting each other.
Their antics involved lots of water pistols and cream pie cakes being flung.
Alistair McCrea, of Ewbank's, said:
"Fortunately, Sooty and Sweep behaved themselves very well and throughout the proceedings.
"We were delighted with the reaction of bidders.
"There's no doubt that this collection caused quite a stir."