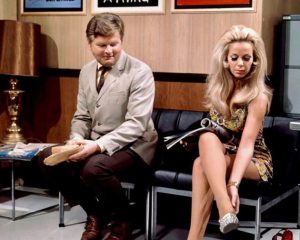 The risqué and politically incorrect Benny Hill Show is returning "by popular demand" to British television for Christmas.
The programme – which attracted more than 20 million viewers – was known for its scantily clad girls, double entendres and overt sexism.
The final slapstick scene had Hill – who died in 1992 – chasing a group of barely clothed women.
The comedian will be joined in the That's TV Gold Christmas schedule by episodes from the Kenny Everett Show and Beadle's About.
The Benny Hill show ran for four decades and was shown in 140 countries.
A former ITV television producer said:
"Given today's cancel culture campaign, The Benny Hill Show back on screen will leave the woke world apoplectic."
Kris Vaiksalu, That's TV Christmas Head of Programming, said:
"We are excited to have secured the rights to two of the biggest shows in British TV history, 'The Benny Hill Show' and 'Beadle's About', for our seasonal rebrand this year.
"These shows are part of our national cultural heritage.
"Watching age-old comedy is a national Christmas tradition but for two decades these particular favourites have been missing from the festivities.
"We all need some festive cheer following the past year.
"Our viewers have inundated us with requests to show Benny Hill and we're thrilled to be able to make this Christmas wish come true."