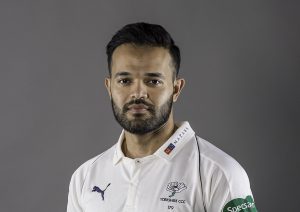 Cricketer Azeem Rafiq – at the centre of a racist storm – has apologized for using anti-Semitic insults.
He exchanged the comments with another player.
Rafiq admitted sending the messages more than ten years ago.
He "joked" about a player being reluctant to spend money "because he is a Jew".
The former Yorkshire spin bowler added the player would "probs go after my 2nds [second helping of food] again ha", adding:
"Only Jews do tht [sic] sort of s—."
Rafiq has said he's spoken to the player he slurred and said sorry.
Rafiq, 30, said: "I was sent an image of this exchange from early 2011 today.
"I have gone back to check my account and it is me.
"I have absolutely no excuses.
"I am ashamed of this exchange and have now deleted it so as not to cause further offence.
"I was 19 at the time and I hope and believe I am a different person today.
"I am incredibly angry at myself, and I apologise to the Jewish community and everyone who is rightly offended by this.
"At no point will I ever try and defend the indefensible.
"For those I have hurt I am sincerely sorry
"I will continue to front up & own any more mistakes I have made."
The anti-Semitic posts came to light only hours after Rafiq testified before a Commons committee about his first-hand experience of racist comments while at Yorkshire County Cricket Club
Claudia Mendoza, co-chief executive of the Jewish Leadership Council, said of his anti-Semitic messages:
"There's no doubt that this is massively awkward for Azeem Rafiq but he's taken full ownership, apologised, and undoubtedly – through his own experiences – learnt a lot about racism since then."