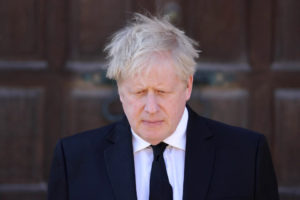 Prime Minister Boris Johnson admits he "crashed the car" by trying to defend lobbying MP Owen Paterson.
After a bruising day in the House of Commons, Mr Johnson faced his backbench MPs at a meeting of the 1922 Committee.
He told them: "On a clear day I crashed the car into a ditch.
"I will get the car out of the ditch."
His MPs warned him he needs to rebuild urgently public trust as the "sleaze" row threatens to engulf the PM.
A raft of recent opinion polls has seen the public turn their backs on Mr Johnson.
Deputy Prime Minister Dominic Raab said ministers are working on "fixing the problem".