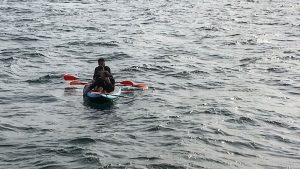 Sports chain Decathlon has stopped selling canoes in France to prevent migrants crossing the Channel.
The company said in a statement:
"The purchase of canoes will no longer be possible in Decathlon stores in Calais and Grande-Synthe, near Dunkirk, given the current context.
"The items were not being used for their sporting purpose but could be used to cross the Channel.
"People's lives would be endangered."
Some Decathlon stores had taken a unilateral decision to stop selling canoes.
Management has now approved that decision.
Canoes can still be bought online, and stores will continue to sell life-saving equipment.
Last week two migrants were rescued off Calais after trying to cross to England in canoes.
Record numbers of migrants are crossing the Channel.
Home Secretary Priti Patel has called the situation "unacceptable".