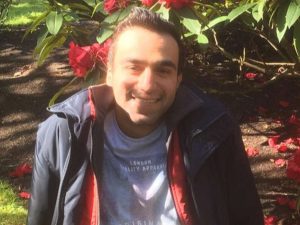 The failed bomber who died in an explosion in Liverpool has been named as Emad al-Swealmeen.
He was also known as Enzo Almeni.
Detectives believe the taxi passenger who died in the blast was Emad al-Swealmeen.
He is thought to have lived in a house in Sutcliffe Street – ten minutes away from the device being detonated.
He recently lived in house in nearby Rutland Avenue, where investigators found bomb components.
Detective Chief Inspector Andrew Meeks, the senior investigating officer, said:
"Our focus is the Rutland Avenue address, where we have continued to recover significant items.
"We continue to appeal for any information about this incident and now that we have released his name any information that the public may have about al-Swealmeen no matter how small may be of great assistance to us."
It's believed al-Swealmeen was not known to Britain's security forces.
The terrorist killed himself in the blast minutes before a national silence for Remembrance Sunday.
The taxi driver managed to escape from the blazing vehicle with minor injuries.
Al-Swealmeen is believed to have converted to Christianity at Liverpool Cathedral in 2017.