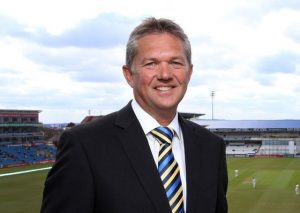 Mark Arthur
Yorkshire County Cricket Club Chief Executive Mark Arthur has become the latest victim of the racism scandal at the Headingley ground.
Mr Arthur has faced increased pressure to resign following accusations the club was racist.
Former player Azeen Rafiq claims he suffered from racist comments – sometimes used as "banter".
Mr Rafiq also wants cricket director Martyn Moxon to go.
Earlier Roger Hutton – chairman of the club's board – resigned.
He was replaced by Lord Kamlesh Patel.
Lord Patel said:
"The board at Yorkshire County Cricket Club has accepted the resignation of Mark Arthur as CEO.
"We thank him for his tenure.
"This is an important moment for the club, which is ready to move forward with new leadership, which will be vital in driving the change we urgently need.
"We know there is still much work to be done and more difficult decisions to be made.
"We need to rebuild the trust of the fans, the cricketing world and the public.'
Mr Arthur made no mention of of the crisis engulfing Headingley.
He said:
"I would like to thank the members for their support over this period and wish the club all the very best in the years to come."
He has been summoned to give evidence by the Digital, Culture, Media and Sport select committee.