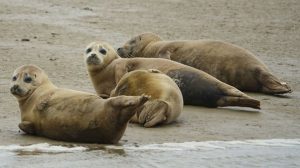 Sharks are back swimming in the River Thames after a decades of conservation work.
The river was declared "biologically dead" in 1957 because of extreme levels of pollution.
Little, if anything, survived in its toxic waters.
But after sixty years of environmental work the Thames supports more than 115 species of fish – including Starry Smooth Hound sharks.
Other surprising water creatures include seahorses, eels and seals.
Conversationists says there are now 92 species of birds and 600 hectares of salt marsh – a vital habitat for wildlife.
The environmental and conservation triumph has been revealed in the first ever State of the Thames report by the Zoological Society of London. (ZSL).
Alison Debney of ZSL said:
"Estuaries are one of our neglected and threatened ecosystems.
"They provide us with clean water, protection from flooding, and are an important nursery for fish and other wildlife.
"The Thames estuary and its associated 'blue carbon' habitats are critically important in our fight to mitigate climate change and build a strong and resilient future for nature and people.
"This report has enabled us to really look at how far the Thames has come on its journey to recovery since it was declared biologically dead, and in some cases, set baselines to build from in the future."