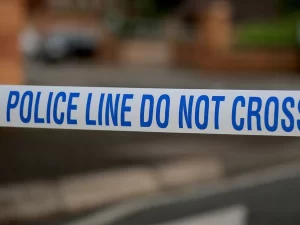 A ten-year-old boy has died after being attacked by a dog.
The boy was pronounced dead at a house in Pentwyn, Caerphilly.
Gwent Police said the dog was destroyed by firearm officers.
Police officers have remained in the area.
The house is in the centre of a large housing estate.
The dog, believed to be an American Pitbull, had reportedly latched its teeth onto the boy's leg and would not let go.
One neighbour tried to get it off the child but it was impossible as the dog had become "crazed."
Neighbour Lorrine Urvine said:
"We couldn't see anything other than the screaming.
The kids – they were hysterical.
"And within minutes I've never seen so many police cars in my life."
Neighbour Tracey Lawrence added:
"The little boy that lives there ran over to a neighbour saying the dog was attacking his friend and the neighbour couldn't help and couldn't save the boy."
Another resident told the PA news agency:
"The dog has been a nuisance on the estate for a bit of a time.
"I took our son down to the local shop a few days ago, and he was down there and he was lunging at my son.
"My son is three years old, and I had to pick up my son just to move around the dog because of the size on him."
Chief Superintendent t Mark Hobrough said:
"Officers will be making further inquiries at this time and will remain at the scene as the investigation progresses.
"It is possible that you may see ongoing police activity in Caerphilly as part of this work.
"If you have concerns or information then please do stop and talk with us."