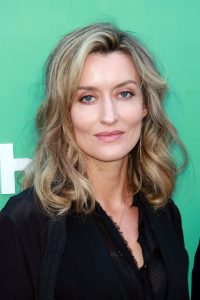 The actress stepdaughter of a self-confessed IRA supporter has been cast in The Crown as a member of the Mountbatten family.
Lord Mountbatten – and three other people – was murdered aboard his fishing boat by the terrorist group in County Sligo in 1979.
His death deeply affected the Royal Family.
Now, Natascha McElhone, 51, has been chosen for the role of Countess Mountbatten.
Ms McElhone is the daughter of former Daily Mirror journalist Noreen Taylor and her late ex-husband Mike Taylor.
Ms Taylor later married Roy Greenslade – the editor of the Daily Mirror.
Greenslade "outed" himself earlier this year as an IRA supporter.
He admitted he had written regularly under a pseudonym for An Phoblacht, Sinn Fein's weekly newspaper.
He told how his support for the republican cause "and the use of physical force" had followed a journey that began when he fell in love with Noreen Taylor in 1971.
Commenting on the decision to cast Ms McElhone, Royal biographer Penny Junor said:
"I think it shows a lack of respect [by the programme's makers].
"Of course, you cannot visit the sins of the father on the daughter but there are lots of actresses out there.
"It just feels slightly two fingers."
Greenslade declined to comment.
He said: "I have nothing to say, not a single word, to say about a nonsensical story."
A spokeswoman for The Crown said:
"I don't think we would comment on that story."
Ms McElhone also declined to comment.