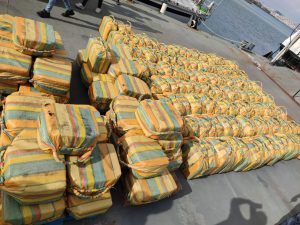 More than five tonnes of cocaine – worth £180 million on the streets – has been found on a sailing boat in the Atlantic.
It is the largest haul in Europe in recent years.
Britain's National Crime Agency (NCA) aided the intelligence led multi-agency international operation.
The 79-foot sailing yacht G Siro was intercepted by the Portuguese Navy 200 nautical miles South West off the coast of Portugal and taken to a naval base in Lisbon.
Three men on board have been arrested by the Portuguese Police and remain in custody.
Director of Investigations at the UK's NCA Nikki Holland said:
"Intercepting this vessel required international co-operation, and the NCA played a key role in sharing information with our law enforcement partners.
"This is a huge haul of class A drugs, and whilst the end destination is unclear at this stage, there is no doubt some would have ended up in the UK.
"The criminal trade in drugs is driven by financial gain and the loss of the profit that would have been made from this seizure will be a significant hit to the international criminal networks involved.
"It is a high priority for the NCA to build on the successes we have had in source countries and along the drugs supply routes, so that organised crime groups land fewer drugs in our towns and cities and prevent them being distributed by street level dealers."
The NCA works closely with law enforcement partners to disrupt organised crime groups who seek to cause harm to the UK through the trafficking and supply of drugs.
There are currently more than 300 NCA-led investigations ongoing into class A drugs – both in the UK and abroad.
In recent weeks, the NCA has contributed to international action resulting in the seizure of nearly seven tonnes of cocaine, the destruction of two cocaine labs capable of producing five tonnes a month and the destruction of a heroin lab.