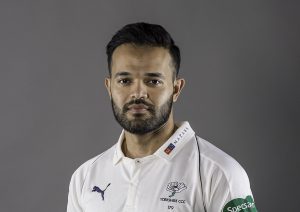 Azeem Rafiq
Yorkshire County Cricket Club has been banned from staging England matches as it battles racism at the county ground.
The England and Wales Cricket Board (ECB) has been intense pressure to take action.
Following an emergency meeting the ECB suspended Yorkshire from hosting "international or major matches" until they have demonstrated they can "meet the standards expected of an international venue, ECB member and first-class county".
The Headingley based club is engulfed in a series of accusations that has left it reeling.
Former spin-bowler Azeem Rafiq said he was the victim of racism during his time playing for the county side.
He had been called "a P***" in what was later dismissed as changing room banter.
Even former Yorkshire and England captain Michael Vaughan has been caught up in the row.
A report into the allegations reveals he told a group of Asian players that "there are too many of you lot, we need to do something about it".
Ashes winner Vaughan – now a television pundit – vehemently denies making the remark.
Meanwhile, sponsors are tearing up their contracts with YCCC; Nike is the biggest so far to distance itself from the club.
However, being banned from staging England games will be the toughest blow.
Not just the financial cost but the stigma and shame of being caught up in a racism debacle.
Headingley has been the scene of some of England's greatest Test match victories – games written into the history of cricket.
The ECB said: "It is clear to the board that YCCC's handling of the issues raised by Azeem Rafiq is wholly unacceptable and is causing serious damage to the reputation of the game.
"The ECB find this matter abhorrent and against the spirit of cricket and its values.
"There is no place for racism or any form of discrimination in cricket and where it is found swift action must be taken.
"This matter must be dealt with robustly if the sport is to demonstrate its commitment to truly being a game for everyone.
"The ECB will therefore hold YCCC to account in relation to their handling of the matter.
"Given recent events, it is clear there are serious questions regarding the governance and management of YCCC.
"The club's failure in relation to actions and responses to their own report represent a significant breach of its obligations to the game.
"Discrimination of any kind on the field of play, in the dressing room, in the stands, or in the boardroom is intolerable in sport or indeed, society.
"Cricket must work together to eradicate it."