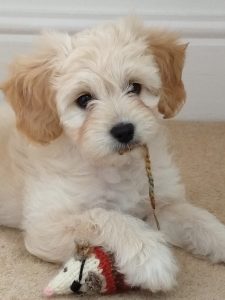 Hundreds of unsold dogs are being handed to rescue centres as lockdown demand has dramatically dropped.
During the Covid-19 pandemic breeders produced puppies to match an ever-increasing demand.
However, despite people returning to work, the breeders are still producing.
Friends of Animals in Wales has taken in scores of puppies.
Some have been abandoned.
Last week they took in seven Cavachon puppies handed over by a single breeder.
The centre's owner, Eileen Jones, said:
"We have had lots of unsold pups in.
"You've got all these puppies that were in the pipeline, but people have gone back to work, and life is back to some sort of normality and there isn't the demand there.
"But these pups were already on their way because it's about 20 weeks from when they're conceived to when they're ready to go because they're sold at around eight to 10 weeks.
"There are puppies but no market for them.
"The other thing is we've got the Christmas market coming up so these puppy breeders don't want to be full up with adolescent puppies they can't sell and want room for the eight- to 10-week-old ones.
"It's a bit of a dumping ground, but one we're happy to accommodate because we know we're giving those pups the best possible future."
Dermot Murphy, head of the RSPCA's animal rescue teams, said:
"We are concerned that some people bought a pet on impulse without considering how their lifestyle might change once the pandemic ends.
"The fear is that we will see a surge in abandoned and neglected animals coming into our care."