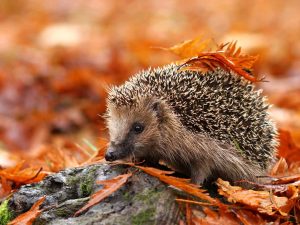 Thousands of hedgehogs are at risk as bonfires are lit to celebrate Guy Fawkes night.
Wildlife experts say night time animals are most in danger – in particular the hedgehog.
Leading charity Hedgehog Welfare urged party organizers to check bonfires before they are lit.
Janet Peto, from the Midlands based charity, said:
"A bonfire is a perfect place for a hedgehog to set up a winter hibernation home.
"They don't know about Guy Fawkes – they just want somewhere dry to nest.
"We ask party goers to check out the bonfire before setting it alight.
"Better still, don't build it until the last possible moment."
Hedgehogs are on the Mammal Societies' Red List of endangered animals, with numbers having halved in the UK since 2007.
There are now thought to be less than a million hedgehogs left in the country.
Sixty years ago it was estimated there were 30 million hedgehogs roaming the countryside.
Fay Vass of the British Hedgehog Preservation Society said:
"If material is stored on open ground in advance of having a bonfire, it's crucial to dismantle it and move it to another spot just before lighting.
"Ensure it's moved to clear ground – never on top of a pile of leaves as there could be a hedgehog underneath, and not too close to pampas grass which can ignite very easily and is another favourite spot for hedgehogs to hide under."
Hedgehog carer Sally Key, from Hedgehog Welfare, said:
"If you do find a hedgehog hiding in your bonfire place it in a cardboard or plastic box with high sides –hedgehogs are very good climbers.
"Fill it with shredded newspaper and secure with a lid with air holes.
"Place the box as far away from the bonfire as possible, with hedgehog food or pet food and clean fresh water.
"Once the bonfire party is over, release the hedgehog safely under a hedge or bush, or near a log pile.