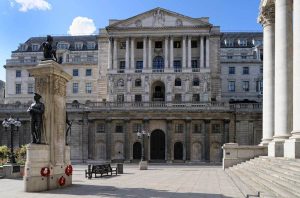 Library: Bank of England
The Bank of England has not changed the interest rate.
The rate has been left at 0.1 per cent despite a pessimistic forecast for Britain's economy.
The Bank's Monetary Policy Committee (MPC) voted to leave the base rate unchanged – but cautioned that the UK and world economies had grown more slowly that forecast in August.
The MPC statement said:
"Growth is somewhat restrained by disruption in supply chains.
"Alongside the rapid pace at which global demand for goods has risen, this has led to supply bottlenecks in certain sectors.
"There have also been some signs of weaker UK consumption demand."
The MPC forecasts that the economy will return to its pre-pandemic level by the first quarter of next year.
The group's nine members voted seven to two in favour of holding rates at 0.1 per cent.
Both Michael Saunders and Dave Ramsden voted in favour raising interest rates to 0.25 per cent.