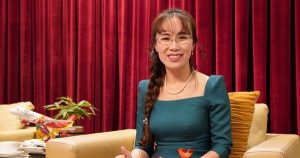 An Oxford college is to change its name after a donation of £155 million.
Linacre College will become Thao College – after Nguyen Thi Phuong Thao, a billionaire airline owner.
Linacre College, founded in 1962, is currently named after the 15th Century humanist Thomas Linacre.
The "landmark gift" has come from Ms Thao's company SOVICO.
The new name in exchange for money has created mixed feelings at the university.
One don told The Telegraph:
"If this were one of the great historic colleges one would have deep reservations.
"But as it's a modern college and has not got a big endowment, one can understand the decision.
"If someone is going to put in a colossal amount of money, it's not unreasonable to have something to show for it."
However, Dr Maria Kawthar Daouda, a lecturer in French literature said:
"Colleges should not be altered simply because a major gift has been made.
"The name Linacre bears a deep history.
"Thankfulness for Madam Thao's money could be expressed in ways that do not erase what the donation is meant to protect."
Patrick Major, a history professor at Reading University, said:
"I personally would have some reservations about the commercialisation of this.
"I'm more familiar with a single building within an institution being named after benefactors but not whole colleges.
"There are some examples in the US, but I think it is fairly alien to the British experience.
"I think rather than buildings being named after people in the commercial or business sector I would rather see things done for people in public life."
Ms Thao, 51, was born in 1970 in Hanoi, North Vietnam.
She studied economics in Moscow.
As a student she started to import fax machines, rubber, and plastics into the then Soviet Union.
She launched VietJet Air in 2007 as a low-cost airline, making her South East Asia's only female billionaire.
Ms Thao said:
"I believe that Oxford is the right place to make my long-time desire to contribute to humanity through education, training and research come true.
"By donating to Linacre College, we hope to make significant contributions to enrich Oxford's traditions and reputation."
Dr Nick Brown, Principal of Linacre College, said:
"We are determined that Linacre should continue to nurture the finest academic talent, whatever their background or country of birth.
"I am immensely grateful to SOVICO chairwoman Madam Thao for her deep commitment to furthering academic excellence in perpetuity.
"This will help sustain our student support and research at the highest international level."