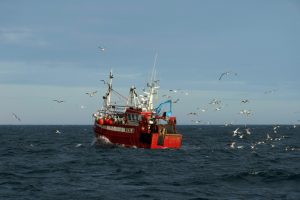 France has declared a 24-hour truce in its fishing row with Britain.
President Emmanuel Macron held back on threatened retaliatory trade sanctions for more talks.
Britain had warned legal action would follow unless the threats were withdrawn.
Foreign Secertary Liz Truss had already fired a shot across the French bows insisting the UK would "not roll over".
Later Mr Macron said:
"The talks need to continue.
"We'll see where we are tomorrow at the end of the day, to see if things have really changed.
"My wish is that we can find a way out on all these issues."
A Downing Street spokesman said:
"It is entirely up to France if they choose to go ahead with the threats they have set out.
"We continue to hope that they step away from the threats they have made."
The spokesman insisted that Prime Minister Boris Johnson and Mr Macron were "still friends".
A UK Government spokesman said:
"We welcome the French Government's announcement that they will not go ahead with implementing their proposed measures as planned tomorrow.
"The UK has set out its position clearly on these measures in recent days.
"As we have said consistently, we are ready to continue intensive discussions on fisheries, including considering any new evidence to support the remaining license applications.
"We welcome France's acknowledgement that in-depth discussions are needed to resolve the range of difficulties in the UK/EU relationship.
"Lord Frost has accepted Clement Beaune's invitation and looks forward to the discussions in Paris on Thursday."