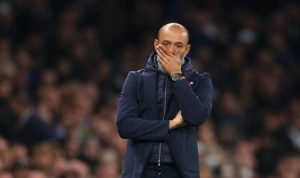 Tottenham Hotspur have sacked manager Nuno Spirito Santo after the team's poor start to the Premier League season.
The Portuguese manager was only hired five months ago.
Spurs' MD Fabio Paratici said:
"I know how much Nuno and his coaching staff wanted to succeed and I regret that we have had to take this decision.
"Nuno is a true gentleman and will always be welcome here.
"We should like to thank him and his coaching staff and wish them well for the future."
The manager's dismissal came after a three nil home defeat to Manchester United.
Spurs are eighth in the league table with five wins and five losses.
However, in the last two matches Spurs have failed to have a shot on target in two hours and 16 minutes.
Frustrated Spurs' fans have been shouting from the terraces "you don't know what you're doing".
The North London club had an unsettled start to the season as world class striker Harry Kane looked to leave – but wasn't allowed to move.