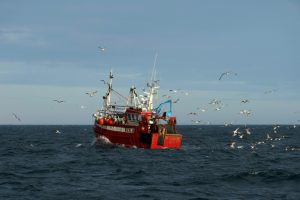 The French Ambassador has been summoned by the British Government to explain "disappointing and disproportionate threats" over post-Brexit fishing.
Foreign Secretary Liz Truss has asked to see Catherine Colonna to clarify why the French seized a British trawler.
Another boat was fined after fishing off Le Havre.
The French say the detained vessel did not have a licence.
However, Environment Secretary George Eustice insisted that was incorrect.
A government spokesman said:
"The proposed French actions are unjustified and do not appear to be compatible on the EU's part with the Trade and Co-operation Agreement (TCA) or wider international law.
"We regret the confrontational language that has been consistently used by the French government on this issue, which makes this situation no easier to resolve."