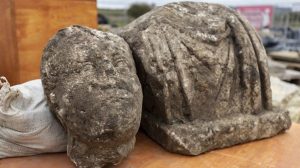 Picture: HS2
An "astounding" collection of Roman sculptures have been unearthed on the HS2 rail link.
Two complete sculptures of a man and a woman – plus the head of a child – were found at a Mediaeval church in Buckinghamshire.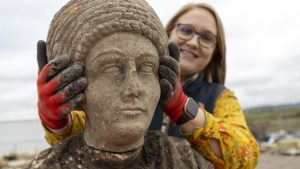 Picture: HS2
Dr Rachel Wood, lead archaeologist for HS2 contractor Fusion JV, said they were "really rare finds in the UK".
Dr Wood added:
"To find one stone head or one set of shoulders would be really astonishing, but we have two complete heads and shoulders as well as a third head as well.
"They're even more significant to us archaeologically, because they've actually helped change our understanding of the site here before the medieval church was built.
"They are so significant and so remarkable that we would certainly hope that they will end up on display for the local community to see."
Archaeologists have been working at the Norman built St Mary's Church site in Stoke Mandeville.
It's believed the site was a Roman mausoleum before then.