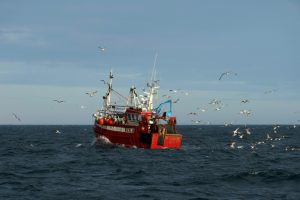 Libraray picture
The French have detained a British trawler claiming it was fishing in their waters.
Another vessel was given a verbal warning.
The French Maritime Ministry said:
"This Wednesday, two English ships were fined during classic checks off Le Havre.
"The first did not comply spontaneously: verbalisation.
"The second did not have a licence to fish in our waters: diverted to the quay and handed over to the judicial authority."
French maritime minister Annick Girardin said it is "not war but this is a combat".
She added: "So now, we need to speak the language of strength since that seems to be the only thing this British government understands."
The detention is a further escalation in a dispute between the two countries on fishing rights.
France claims its fishing boats are still waiting for licences from the UK to allow them to use British waters.
The arrangement was part of the Brexit deal.
To ramp up pressure on Number 10 the France have outlined a series of sanctions they could use if the issue is not settled soon.
However, Prime Minister Boris Johnson has said the Government would retaliate over what it described as a breach of international law.
A Government spokesperson said:
"France's threats are disappointing and disproportionate, and not what we would expect from a close ally and partner.
"The measures being threatened do not appear to be compatible with the trade and cooperation agreement (TCA) and wider international law, and, if carried through, will be met with an appropriate and calibrated response.
"We will be relaying our concerns to the EU Commission and French government."