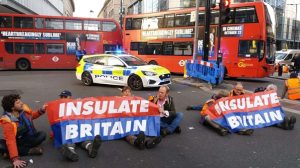 Insulate Britain are back blocking roads after a short break from causing chaos to traffic.
The protesters are obstructing vehicles in three locations in London.
The activists – an off-shoot of Extinction Rebellion – have blocked Upper Thames Street, Bishopsgate, and Limehouse Causeway.
All are main routes into the City of London.
It is the 14th time Insulate Britain has caused disruption on motorways and A roads.
The group has been caught up in confrontations with frustrated and angry drivers.
The City of London Police tweeted:
"Bishopsgate is currently closed at the junction with Wormwood Street due to protest activity.
"Police are at the scene but please avoid the area if possible as this is causing disruption to traffic."
Officers added that Southwark Bridge was closed in both directions.
Insulate Britain said in a statement:
"We know that the public is frustrated and annoyed at the disruption we have caused.
"They should know that one way or another this country will have to stop emitting carbon.
"We can do that now in an orderly, planned way, insulating homes and preventing thousands of deaths from fuel poverty, or we can wait until millions have lost their homes and are fighting for water or starving to death."
The group wants the Government to insulate all UK homes by 2030 to cut carbon emissions.