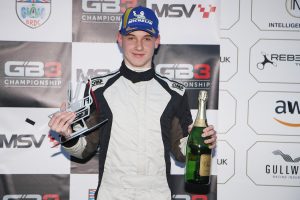 A teenage racing driver has come roaring back to success only weeks after a trackside fire nearly destroyed his season.
Sixteen-year-old Will Orton won a podium place in the final round of the Ginetta GT5 Challenge Championship at Donington Park.
Will – who is too young to have a road driving licence – said:
"I'm so pleased we were able to get on that podium for the final race.
"It has been a tough season, especially following the fire.
"The first race on Sunday was so wet I couldn't see in front of me, but I kept calm and worked my way through the pack.
"Being the youngest driver in this strong senior championship has been incredibly hard but to end the season with my first senior podium has made it all worthwhile.
"My aim is obviously to challenge for the tittle next year!"
Will's dad, Peter, 55, said:
"That was a brilliant end to a difficult year.
"Will drove his socks off.  I'm so proud.
"He showed real maturity and demonstrated the potential that we have always seen in him.
"The challenging work starts again though, as we go into the winter trying to secure the budget for him to put on a strong title challenge next year."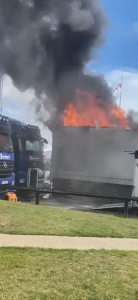 Earlier in the season Pete, from Flintham, Nottinghamshire, rushed into a blazing inferno to save his son's £40,000 sports car.
Will, was preparing for a race at Snetterton in Norfolk.
The huge blaze sparked pandemonium as thick black smoke billowed from a lorry parked next to Will's Ginetta G40 racing car.
Pete watched on in horror with wife Liz, 50, before he realised that 100 litres of race fuel and compressed air cylinders were stored next to the flames.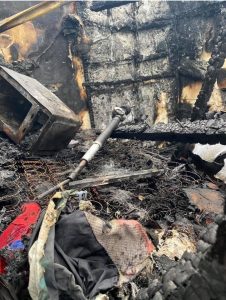 Pete, a kayak manufacturer, said: "It was a bomb waiting to go off.
"Rightly or wrongly, we pulled the fuel cans out and shifted the compressed air.
"I could hear my wife Liz shout at me to 'come away', but I carried on."
A trackside fire truck arrived and quelled the flames – just enough for Pete to push Will's car to safety.
Three fire trucks later arrived and extinguished the blaze within 15 minutes.
However, Will's race team lost £8,000 worth of kit.
Will is on the Motorsport UK Talent Pathway and prestigious Academy programme based at Loughborough College.
He said: "I couldn't have finished this season without the support of my family and sponsors CYFOR, Green Recycling and CRS Cosmetic Repair Solutions and set-up team Race Car Consultants."
Watch Will's race: