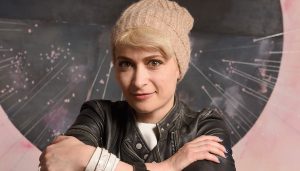 Halyna Hutchins
Hollywood star Alec Baldwin is being questioned by the police after firing a prop gun that killed a woman.
The couple were in New Mexico on the film set of "Rust" – which Baldwin is directing – when the weapon went off.
Halyna Hutchins, 42, was flown to hospital in Albuquerque but later died.
Another film worker – Joel Souza, also 42 – was injured but discharged after treatment.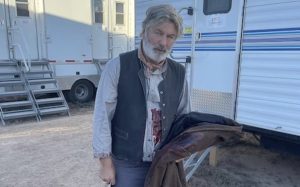 Baldwin on set before the shooting
The Sherrif's Office said:
"Hutchins and Souza were shot when a prop firearm was discharged by Alec Baldwin, producer and actor.
"No one was arrested in the incident, and no charges have been filed.
"According to investigators, it appears that the scene being filmed involved the use of a prop firearm when it was discharged.
"Detectives are investigating how and what type of projectile was discharged."
The film follows the story of a young boy on the run after accidently killing a local rancher.
Production has now stopped.
A spokesperson for Baldwin, 63, said there was an accident on the set involving the misfire of a prop gun with blanks.
Local papers report that Baldwin was "in tears" outside the sheriff's office.
The actor is yet to comment.