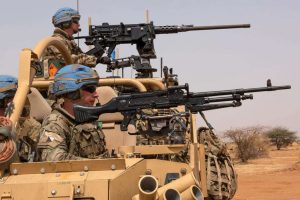 Library picture from MoD
British soldiers have shot dead two jihadists – believed to be ISIS fighters – after coming under fire.
The soldiers are part of a United Nations mission in Mali in West Africa.
The peace keeping mission is said to be one of the world's most deadliest currently taking place.
British troops have been working alongside French soldiers.
The firefight happened in a remote part of Mali.
Men from the Queen's Dragon Guards were in Jackal armoured vehicles when they came under fire from a Russian made PKN machine gun and an AK-47 assault rifle.
The British troops chased the two gunmen into an undergrowth.
The UK soldiers returned fire with a GPMG (general purpose machine gun) and 40 mm grenade machine gun.
They were no more than 30 feet away during the 20 minutes' gun battle.