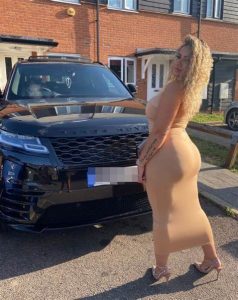 An angry mum on a school "nudged" her Range Rover into Insulate Britain activists blocking the road.
In an outrage with demonstrators Sherrilyn Speid, 34, jumped out of her car and confronted the two women.
When they refused to budge, she jumped back in the vehicle and moved forward.
One woman can be heard giving out a yell of pain.
Ms Speid told MailOnline:
"I was just standing up for my son. I
"I'm very passionate about that.
"I just wanted to get him to school.
"We're going through a pandemic – they've had enough time off already."
Reacting to the video shot at traffic lights in Thurrock, Essex, Ms Speid posted to Instagram:
"I never ran them over; I gave them a nudge.
"So dramatic man."