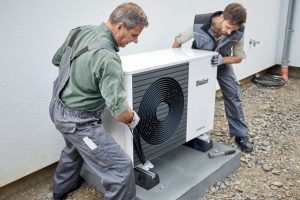 Picture: Vaillant
Grants of £5000 will be given to households looking to replace gas boilers with low carbon heat pumps.
The Government announced the plans as part of its drive for all new heating systems to be low carbon by 2035.
However, it said people would not be forced to remove fuel boilers.
The conversion would also create an estimated 240,000 jobs across the country by 2035.
Prime Minister Boris Johnson said:
"As we clean up the way we heat our homes over the next decade, we are backing our brilliant innovators to make clean technology like heat pumps as cheap to buy and run as gas boilers – supporting thousands of green jobs.
"Our new grants will help homeowners make the switch sooner, without costing them extra, so that going green is the better choice when their boiler needs an upgrade."
Business and Energy Secretary Kwasi Kwarteng added:
"Recent volatile global gas prices have highlighted the need to double down on our efforts to reduce Britain's reliance on fossil fuels and move away from gas boilers over the coming decade to protect consumers in long term.
"As the technology improves and costs plummet over the next decade, we expect low carbon heating systems will become the obvious, affordable choice for consumers."
The Government wishes to cut UK climate emissions to net zero by 2050.
However, environmental campaigners say the measures don't go far enough.
Ed Miliband shadow business secretary, said:
"As millions of families face an energy and cost-of-living crisis, this is a meagre, unambitious and wholly inadequate response.
"Families up and down the country desperately needed Labour's 10-year plan investing £6 billion a year for home insulation and zero carbon heating to cut bills by £400 per year, improve our energy security, create jobs and reduce carbon emissions."