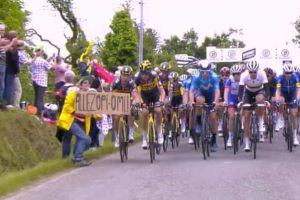 Picture: Eurosport
A Tour de France spectator who caused a major pile-up during the race has been given a four-month suspended jail sentence.
The 31-year-old woman brought down a rider with a banner as she waved at a television camera.
Cyclist Tony Martin crashed to the floor and the following peloton ploughed into each other.
A number of riders were badly injured.
One had to abandon the race.
After the incident the woman fled, only handing herself in to the police four days later.
The woman – who has not been named – told the court in Brest, France:
"I am ashamed.
"I am a quiet person.
"Everything that has happened is the opposite of who I am."
The woman was charged with endangering lives and causing unintentional injuries.