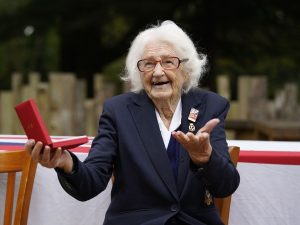 Lorna Cockayne
One of the few surviving Bletchley Park codebreakers has been given France's highest honour.
Lorna Cockayne, 96, was given the Legion d'honneur at a ceremony in Ferndown, Dorset.
Mrs Cockayne worked on Colossus computers – the world's first – to crack German cipher codes.
She'd joined the Women's Royal Navy Service (Wrens) in 1943.
She told the PA news agency:
"I am overwhelmed with all these people and the whole day is amazing.
"I was one of 600 Wrens working day and night trying to sort out the jigsaw puzzle that was Bletchley Park.
"We didn't know what we were doing, and it wasn't for years later that I discovered exactly what we were doing, it was just the secrecy of Bletchley Park.
"Nobody told us, except that we were trying to get the messages through – no, we didn't know what we were doing, but that was security, if you don't know you can't tell anybody.
"I am still learning more about the Bletchley Park because it was a huge, great organisation."
Steve Cockayne, Mrs Cockayne's son, said:
"I feel immensely proud – she is very humble about all of this and really didn't want a big show, but I persuaded her to accept the medal on behalf of all the Wrens who can't be here because they all did tremendous work at Bletchley Park."