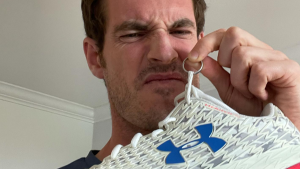 Tennis ace Sir Andy Murray has been re-united with his wedding ring after he left it tied to his "sweaty trainers".
Murray left the trainers underneath a car in California to "get some air".
However, he'd forgotten he'd tied his ring to the laces.
When he returned to the car next day the trainers – and ring – had gone.
Sir Andy, 34, took to social media to have the ring – not necessarily the shoes – returned.
Luckily, the items were sent back.
It prompted two-time Wimbledon champion Sir Andy to post:
"I had to make a few calls today and chat to the security at the hotel and everything.
"A little update for everyone, would you believe it, they still absolutely stink but the shoes are back, the wedding ring is back and I'm back in the good books – let's go!"
Murray has not elaborated on how he was reunited with his property, leaving fans and fellow tennis pros desperate for the full story.